Cicada BroodX
Cicada Resources
Ask an entomologist! 
What cicada related questions are buzzing in your brain? 
Join us for an informative chat and live Q&A session with local entomologist Gaye Williams as she shares her expertise on the pending Cicada Brood X. We'll answer YOUR questions live on the call- drop a question in the event discussion feed, or submit ahead of time via our "Ask A Gardener" form at
https://forms.gle/ZF8ttSQtJoVmemEZ8
.
Please note- there will not be video for this call (cameras off, audio only) but you are welcome to join the call on your computer or by phone.
Join on your computer or mobile app
To join:
http://bit.ly/cicadaMD
Or call in (audio only)
Dial in: +1 321-754-9488
Phone Conference ID: 141 494 379#
 Protect your trees with Cicada Netting
 Female cicadas lay their eggs by cutting slits in the bark of trees, placing as many as 600 eggs in a single branch! This stress does not typically affect larger trees, but in young trees or smaller varieties it can lead to tree death. The best protection is cicada netting, a specialized insect screening with openings smaller than 1/2'' - a good rule of thumb? If you need a ladder to install the netting, you probably don't need it at all. Need more advice? Drop a line (and picture!) via our submission form, or stop by your local Ace for more details.
Cicada Educational Resources
The Maryland Department of Agriculture assembled a number of wonderful resources on the upcoming Cicada BroodX. Here are a few we found helpful:
READ: USA Today, "When will the cicadas emerge in 2021? How long will they be around after they come out? When will they be back?"
WATCH: Cicada Crew UMD, "How to Net a Small Tree to Exclude Cicadas"
REPORT: cicadas.info and cicadasafari.org to report sightings​
Brood Maps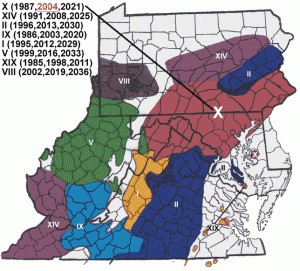 Mid-Atlantic Brood Map. Photo Credit: Cicadas.Info